---
Idyllic

Vineyard and Winery Estate on the Eastern Coast of Virginia

Nestled in the heart of Virginia's eastern coast, this 30+ acre property presents a remarkable opportunity to own a vineyard and winery. With a diverse selection of 10+ grape varietals thriving across the property, it showcases the epitome of wine country living.

As you step onto the property, you'll be captivated by the stunning vineyard views. The meticulously cared-for vines, thriving in the coastal climate, create a breathtaking backdrop that sets the stage for a truly enchanting experience. At the heart of the property stands a charming tasting room, inviting visitors to indulge in the exquisite wines produced on-site. Whether you choose to savor a glass, purchase a bottle, or embark on a tasting journey, the experience is sure to delight even the most discerning wine connoisseurs.

This turnkey winery comes complete with all the equipment necessary to seamlessly take over operations and continue producing exceptional wines. A comprehensive equipment list can be provided upon request, ensuring a seamless transition for the new owners. Beyond its winemaking capabilities, this property offers versatile spaces ideal for hosting small weddings and events. The breathtaking surroundings, combined with the rustic charm of the estate, provide an idyllic setting for unforgettable gatherings and celebrations.

Located within close proximity to quaint coastal towns, this vineyard and winery estate enjoys the best of both worlds — a serene countryside retreat coupled with easy access to the vibrant local community. Discover a world of cultural richness, coastal beauty, and a warm sense of community, all within reach of your vineyard haven. Don't miss the opportunity to own this extraordinary property, where passion, craftsmanship, and natural beauty intertwine to create an unrivaled wine country experience. Take the reins of this thriving business and embark on a new chapter of winemaking excellence and hospitality.

Click Here to View NDA Agreement for this Property
---
For More Information Contact

Cary Carpenter
Cell: 434-249-9114
cary@virginiaestates.com

Deidre Carpenter
Cell: 434-409-4056
deidre@virginiaestates.com
---
Idyllic

Vineyard and Winery Estate on the Eastern Coast of Virginia - $1,600,000
---
Properties similar to

Idyllic

Vineyard and Winery Estate on the Eastern Coast of Virginia:
---
View Our Sales Brochure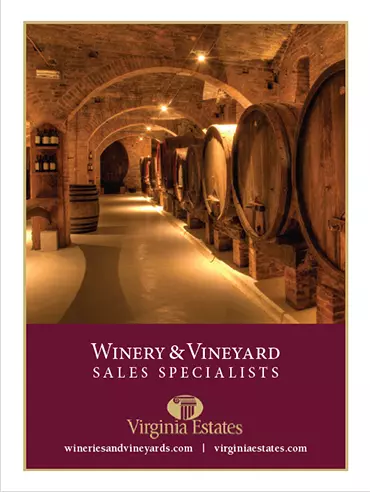 Listing Brought to you by:
Listing Courtesy of Virginia Estates Inc
---
ALL INFORMATION IS PROVIDED IN GOOD FAITH AND DEEMED RELIABLE, BUT NOT GUARANTEED. BUYERS ARE ADVISED TO EXERCISE THEIR OWN DUE DILIGENCE REGARDING THIS INFORMATION. VIRGINIALAND.COM, A DIVISION OF VIRGINIA ESTATES ASSUMES NO LEGAL RESPONSIBILITY FOR ACCURACY.