With summer well underway, it's the perfect time to take a well-deserved break. And there's no better way to enjoy a vacation than with breathtaking views and a bottle of great local wine! Virginia vineyards and wineries are the ideal destination for an easy and relaxed 2021 weekend getaway trip, whether you live in the state or across the country. 
Not only are Virginia vineyards and wineries increasingly well-known in the international market for their high quality, but the state also boasts stunning mountain views, quirky and charming small towns, and fascinating historic sites for visitors to enjoy. While any vacation to Virginia wine country will feature amazing local wine, the rest is up to you – whether you want to hike to beautiful mountain vistas, shop in unique local boutiques, or tour stately historic districts.
Explore a Virginia Wine Trail
When planning a vacation to Virginia wine country, consider choosing a wine trail to focus on. Virginia has over a dozen wine trails with wineries and vineyards that are in close proximity and easy to visit in one weekend. Find a place to stay to serve as your home base, and explore several different nearby attractions and wineries and vineyards from there. 
While wine grapes thrive across the Commonwealth, different regions have different microclimates that support particular varietals and flavor profiles. With more than 300 wineries and 250 vineyards in Virginia, there is no shortage of choices! Choose a wine trail in a region with the activities you want to enjoy while in wine country to make the most of your visit.
The Best Virginia Wine Trails for a Weekend Getaway
Virginia has incredible, award-winning vineyards and wineries across the state. Here are a few of the best Virginia wine trails that combine some of the best wine, views, and food:
Monticello Wine Trail:

This wine trail is in the birthplace of American winemaking. Thomas Jefferson found that central Virginia's incredible terroir could produce wines to rival established European vineyards. These wineries are all located within 25 miles of Charlottesville, the home of Jefferson's Monticello estate. The Monticello Wine Trail is the perfect destination for those looking for a foodie paradise, great hiking, and historic sites.  

Fauquier County Wine Trail:

This wine trail represents the intersection of horse country and wine country around Warrenton in northern Virginia. There are 26 Virginia wineries and vineyards in the county, and while each has its own unique personality, they share a rustic appeal and incredible views of the Blue Ridge Mountains. The Fauquier County Wine Trail is the perfect destination for those looking for historic charm and breathtaking spots for picnicking with local wine. 

211 Scenic Vino Wine Trail:

This wine trail also starts in Warrenton but continues onto Route 211 through the Shenandoah National Park and down the famous Skyline Drive. Some of Virginia's best and quaintest small towns can be found along this wine trail, most notably Little Washington. The trail features half dozen wineries as well as a whiskey distillery. The 211 Scenic Vino Wine Trail is the perfect destination for those looking for scenic drives and quaint towns. 
Where to Stay in Virginia Wine Country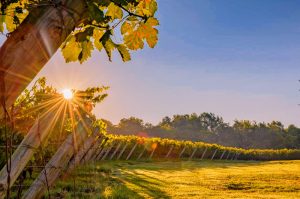 There are many fantastic hospitality options in Virginia wine country depending on the type of vacation you're imagining. Whether you're dreaming of renting a cozy cottage, a farmhouse bed & breakfast, or a luxury hotel, Virginia has options for every traveler. Some Virginia wineries and vineyards even offer rooms or guest houses on the property for rent! 
No matter your budget, you'll find the best options if you search early. Most of Virginia's wine trails are based around a larger town that serves the region and has the most options for hotels, especially for those looking for luxury accommodations. Bed & breakfasts and cabin rentals are options for those who want to stay in a smaller town or more rural area instead. 
Making the Most of Your Visit to Virginia Wine Country
There is always something to do in Virginia wine country! In addition to enjoying award-winning local wine and stunning views of Virginia, there are endless options to enjoy your trip. 
For history buffs, Virginia is known as the Mother of Presidents because eight presidents were born in the Commonwealth (including four of the first five presidents). Virginia also boasts colonial landmarks, notable Revolutionary and Civil War battlefields, and stately historic homes.
Virginia is known for its incredible views, and there's no shortage of ways to enjoy its natural beauty. From hiking to canoeing and kayaking to horseback riding to scenic drives, there's a way for every traveler to enjoy Virginia's views.  
If you enjoy outdoor events and concerts, many Virginia vineyards and wineries have calendars of fantastic events to plan your trip around. For the musically-inclined, there are also incredible music festivals hosted at other locations in Virginia that could be combined with a trip to a wine trail.