---
Virginia

Winery and Vineyard

Price Reduction

Tucked away in the scenic rolling hills of the small town of Amissville, Virginia is a beautiful vineyard and winery producing some of the state's best handcrafted wines. The successful winery opened in 2009 on a breathtaking property in northern Virginia, just a one-hour drive from Dulles International Airport. Of the property's 51 total acres, there are 20 acres of established vines that are used to craft some of the most popular varietals. The winery is known for its bold, flavor-forward reds including Cabernet Franc and Cabernet Sauvignon as well as its fruity and drinkable white blends. The winemaker's custom blends have become popular with Virginia wine lovers, and the business has a loyal following who appreciate the unique flavors that show off the best of the local terroir. The sale of the property will include the wine inventory (both in bulk and already bottled) and equipment for both the vineyard and winery. This property also boasts a beautiful, spacious main residence of over 5,000 square feet with a swimming pool, decks, and patios for basking in the serene mountain views. This property presents a truly special opportunity to become part of Virginia's bustling wine industry at a location that has already established a great reputation and has great potential for expansion!
---

For More Information
Rick Walden
434-981-5923
---
Virginia

Winery and Vineyard - $5,750,000
---
Properties similar to

Virginia

Winery and Vineyard:
---
View Our Sales Brochure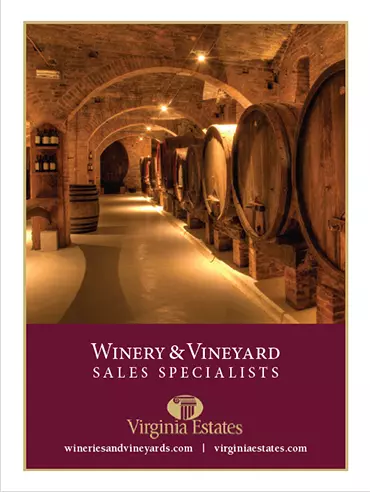 Listing Brought to you by:
Virginia Estates Inc, Afton, VA
---
ALL INFORMATION IS PROVIDED IN GOOD FAITH AND DEEMED RELIABLE, BUT NOT GUARANTEED. BUYERS ARE ADVISED TO EXERCISE THEIR OWN DUE DILIGENCE REGARDING THIS INFORMATION. VIRGINIALAND.COM, A DIVISION OF VIRGINIA ESTATES ASSUMES NO LEGAL RESPONSIBILITY FOR ACCURACY.