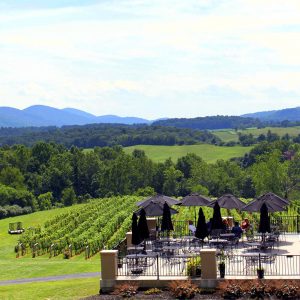 As we move into the holiday season, you may be looking for a new or unique way to celebrate. Now that we are able to gather a little more freely you may want to think about supporting your local Virginia Wineries.  Many Virginia wineries will be having special events this holiday season, below you will find 6 ways to celebrate the holiday season and support your local community. 
Breaux Vineyards
Begin your holiday season by getting crafty at Breaux Vineyards located in Purcellville. They will host 2 crafternoons to get you in the mood for the upcoming holiday season. The first takes place on Saturday, November 20 from 1pm – 2pm. You will be joining Yasmeen Shields of Yasmeen's Sassy Wreaths as she walks you through how to create your own amazing 18 inch grapevine wreath to hang on your door or to gift. Then, return on Sunday, November 21 from 1pm – 2pm as local artist Jill Perla shows you how to create 2 lovely painted glass ornaments. These glass beauties will be a lovely addition to your holiday decor or give them as a one of a kind gift, handmade by you. Remain after class to enjoy a lovely glass of wine while you admire your handiwork. 
Star in the Valley Winery
Star in the Valley Winery located in Strasburg will be hosting a Star in the Valley Christmas Countdown. Visit the winery on Saturday, November 27 from 12pm – 6pm and enjoy food, mulled wine and hot cider while listening to live music and carols. Begin your holiday shopping early with Star in the Valley Winery wine gift packs. 
Saude Creek Winery 
Saude Creek Winery is located in Lanexa. On Saturday, December 4th 11am – 6pm they will be hosting a Holiday open house and a Sip and Shop. Saude Creek Winery will be decked out in it's holiday finest while you enjoy their open house with live music and food. Santa will be arriving to chat with the kids and take photos (for free) in the winery tasting room. Enter Arris Hall and you will be able to explore the booths of local crafts people while sipping on Saude Creek wine. The artisan products will include crafts, beauty products, jewelry and other handcrafted products. 
Ecco Adesso Vineyards
Ecco Adesso Vineyards is located in the heart of the Shenandoah Valley. Ecco Adesso Vineyards is hosting an open house which  will take place on Friday, December 9th 11am-5pm, Saturday, December 10th 11am-5pm and Sunday, December 11 11am-5pm. The weekend will be filled with music, food and sangria as well as incredible wine accompanied by the crackle of a cozy fire.
James River Cellars Winery 
James River Cellars Winery is located 10 minutes outside the city of Richmond. Visit them in the month of December and get into the holiday spirit by taking part in a trio of holiday events. 
First on Sunday, December 12 let out your inner child and enjoy the cookie decorating and wine tasting event which takes place form 1pm – 3pm. On Thursday, December 16 from 6:30pm – 8ppm join them for a decidedly more grown up but no less fun interactive event in which you will learn the fine art of creating an amazing Charcuterie Board. Finally, round out the month of December with Merlot-Ho-Ho to explore the tastes of James River Cellars Winery Merlot past vintages. 
Lost Creek Winery 
Join Lost Creek Winery on Christmas Eve and create special memories with a Christmas Eve Tasting Menu and Wine Pairing. The event takes place on Christmas Eve Friday, December 24 from 12pm – 5pm. You will enjoy a 5 course tasting menu especially prepared by the executive chef. Food will be paired with wonderful Lost Creek wines. There will be 2 seatings and reservations are required.  
The holiday season can be hectic and stressful. Why not take a moment to experience the season in a slightly different way. Slow down, listen to music, enjoy the crackle of a fire, create amazing sugar cookies and Christmas crafts all while supporting your local wineries and crafts people. This special time spent at your local Virginia wineries will definitely put the happy back in your holiday.