While Napa Valley receives much fanfare for its wines, some of the country's most complex wines and innovative wineries can be found in Virginia! Wine has been part of Virginia's history since even before Thomas Jefferson first planted his vineyards. Today, over 50 Virginia wine varietals are produced at wineries around the state. With so many to choose from, there's a Virginia wine to fit every menu and palate. Virginia's wine trails make it easy to make a day or a weekend out of sampling all that Virginia wineries have to offer. Whether you're a Virginia local, a tourist who loves a good bottle of wine, or someone in the market for their own Virginia winery, it's a great time to plan your visit to experience all that Virginia wineries have to offer! 
Virginia's Rich Wine History
The first vineyards in Virginia were planted when the land was still a British colony. While Virginia's native grapes thrived, Virginia wineries didn't begin to get the attention they deserve until Thomas Jefferson planted his two vineyards at Monticello a century later. Jefferson was inspired by a trip to Europe, and wanted to grow popular European wine grape varieties in the mild, protective climate of central Virginia. Wine connoisseurs were impressed by the impact of Virginia's unique terroir on traditional European varietals, and the state's wine industry took off! In the 19th and 20th centuries. Virginia wines and wineries started to garner the international attention they've long deserved with victories at significant wine competitions. In 1873, Virginia's wine was even declared "the best red wine of all nations" at the Vienna World's Fair! Today, there are more than 300 wineries located in Virginia, so there's no shortage of unique and interesting bottles of Virginia vino. 
Virginia Wineries' Secret Ingredient for Great Wine
The secret to Virginia's high-quality wine is one of the most important factors for any winery: the terroir. Virginia wineries are known for producing complex wines that exhibit the character of the beautiful landscape. In other words, Virginia wines taste unique to the region in which they're grown and produced, with their own nuanced flavors you won't taste in bottles of the same varietals produced elsewhere. Virginia's land and climate imparts unique characteristics that you won't find anywhere else in the world – and wine enthusiasts couldn't be happier with it. Try a bottle of Virginia wine to taste the terroir for yourself. Better yet, sample a few different bottles at a Virginia winery for the full experience of all that Virginia's beautiful landscape has to offer!
Navigating Virginia Wineries and Wine Trails
Virginia's nurturing, mild climate is a recipe for great wine grapes, and well-regarded wineries can be found in every corner of the state. Since Virginia's soil and elevation shifts from region to region, each part of the state is best for growing particular types of grapes. Many of Virginia's vineyards and wineries are located near each other and conveniently grouped as part of one of the state's 15 wine trails. This makes it easy for visitors to stop at more than one winery in one day or on one exciting wine-tasting vacation. The wine trails have something for everyone – even those who don't drink! – as you'll drive through charming historic towns, on incredible picturesque roads, and by quirky boutiques and antique shops. The wineries on each wine trail take advantage of their regional microclimate to show off the best of the local terroir. Explore different Virginia wine trails to find the best wine region for your favorite varietals!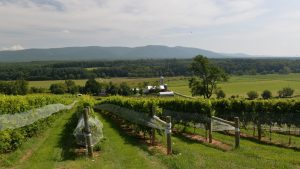 More to Virginia Wine Than Meets the Eye
Visitors to Virginia who want to take full advantage of the state's amazing wine will get so much more than they bargained for. Virginia wineries are well-known for their cozy tasting rooms open year-round for sampling the winery's stock and hosting amazing private events. But once you step outside the tasting room, the true magic begins. Sampling a Virginia wine right where it was grown, with incredible views of the mountains and verdant rolling fields surrounding you, allows you to really experience the wine and the terroir as they were meant to be enjoyed. As you sip your Virginia wine, it's easy to see how the stunning scenery and mild climate came together to produce such complex yet drinkable wines. There's nothing better than enjoying a wine where it was grown, embracing the full experience of Virginia wineries!