Charlottesville, a charming small city located in the foothills of the Blue Ridge Mountains, is steeped in history, culture and nature. The town is located along the Monticello Wine Trail which is made up of 40 wineries. Two of those wineries are located in Charlottesville and offer amazing wines and stunning views of the surrounding area. You can book a stay at Mount Ida Reserve or Jefferson Vineyards for a relaxing and romantic vacation getaway. 
Mount Ida Reserve 
This stunning winery sits on 5,000 acres of rolling hills and provides guests with a tasting room and tap house. All guests are welcome to bike or hike the miles of trails and tree lined drives or enjoy fishing, kayaking or the beach of the Water's Edge – Mount Ida's private lake. To take advantage of everything Mount Ida Reserve has to offer, stay at one of the six beautiful, historic rentals you will find described below. 
Mount Ida Manor 
Located at Bell Mount Farm, Mount Ida Manor was built in 1780. The 3 storied Manor Home has 9 bedrooms, a full kitchen, entertainment center, mini gym and expansive master suite. Check out the view of the pond and vineyards that surround this lovely home from one of the many balcony porches or relax in the hot tub located on the oversized deck. 
Mount Pleasant Manor 
This Jeffersonian style manor home was built in 1810 and has 5 bedrooms. Relax while you soak up the natural beauty on the porch located off of the master suite.  If you would rather engage in a little friendly competition then head to the tennis courts for a game of tennis and cool off in the full sized in-ground pool after the game. 
Cottage
The charming Cottage has 3 bedrooms and is adjacent to Mount Pleasant Manor. This delightful cottage located in an elegant setting has sweeping views of the reserve. Take a stroll around Mount Pleasant Farm or walk over to the tasting room to enjoy a glass of wine or a craft brew. 
The Lake House and Bungalow
If you prefer you can opt to stay in the Lake House and Bungalow. There are a total of 6 bedrooms; 4 bedrooms in the Lake House and 2 bedrooms in the Bungalow. The lake, the Waters Edge, is nearby and the secluded location of the buildings make you feel as though you are in your own private lakeside resort. When you are finished relaxing in the cozy Lake Side House or in the Bungalow, spend time walking along the silky white sand of the beach. 
Stable View
If rustic charm is more your style, then you will love Stable View. You can enjoy idyllic views as you stroll around Mount Pleasant Farm or relax and fish in the lovely lake located just across the road. 
Jefferson Vineyards 
Located a short 15 minute drive from Charlottesville, Jefferson Vineyard is often referred to as the "Birthplace of American wine". The vineyard was originally established in 1773 by Thomas Jefferson and Filippo Mazzei. Between a severe frost and being trampled by horses the vineyard was destroyed. The current winery and vineyard was established once again in 1981. 
Colle 
Colle is a historic estate which is located across the street from Jefferson Vineyards. The estate has 6 bedrooms and 5.5 baths with multiple common rooms, a library and a dining room for you and your guests to enjoy.  During your stay at Colle, you can simply enjoy the amazing views of the Mountains and sprawling Vineyards or take a stroll across the street for a wine tasting. However, visitors who stay at Colles also have access to Common House in Charlottesville. This is a membership only community gathering space that provides you with access to a restaurant, rooftop lounge music, events and concierge services.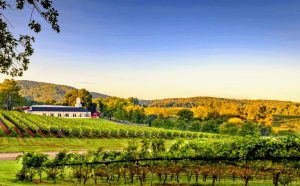 History and beauty surrounds the city of Charlottesville and these stunning wineries are no exception. With the hectic holiday season behind you and the quiet winter months ahead, what better way to provide yourself with a little self care than with a stay in one of the beautiful homes located at these two wineries? Will you choose the history, mountain views and vineyards of Jefferson Vineyards or lakes and rolling hills as far as the eye can see of Mount Ida Reserve?