Virginia has been known for its wine for centuries, ever since it was a British colony. Over the last few decades, Virginia's vineyards and wineries have gained international recognition due to the state's unique terroir. With all of the recent awards swept by Virginia wine, there has never been a better time to sample what the Commonwealth has to offer. Whether you're a Virginia local looking for new activities or a tourist eager to try to best wine Virginia has to offer, consider taking an adventure on one of Virginia's wine trails.
Many of Virginia's vineyards and wineries are concentrated in areas with particular climates that help wine grapes to thrive. Vineyards and wineries in each region are organized into wine trails that make it easy to visit several locations in one day or on one trip. Here is our guide to traveling the state in pursuit of the best wine Virginia has to offer!
The Best of the Best: Virginia's Top-Rated Wine Trails
While there are award-winning vineyards and wineries located in each of Virginia's wine regions, a few wine trails stand out as having the best views and most highly-praised establishments. Luckily for visitors, these top wine trails are spread around the state, so consider checking out the trail closest to you.
Monticello Wine Trail – This wine trail is extensive, with 30 vineyards and wineries further broken into five smaller trails to choose from.

Fauquier County Wine Trail – Each of 26 vineyards and wineries on this trail has their own unique personality so you can choose the best combination for you.

211 Scenic Vino Wine Trail – This is one of the most scenic wine trails in Virginia, with seven wineries and a distillery.
Virginia Wine with a View: Scenic Mountain Wine Trails
Virginia's mountain ranges, particularly the Blue Ridge Mountains, provide both the ideal sheltering climate for complex wine grapes as well as awe-inspiring views for visitors. 
Nelson 151 Wine Trail – The scenic Route 151 offers many vineyards and wineries in addition to restaurants, distilleries, and breweries.

Shenandoah Valley Wine Trail – These 23 vineyards and wineries are nestled along a 200 mile stretch through central Virginia.

Heart of Virginia Wine Trail – If you're ever near Richmond, try out the five vineyards and wineries on this wine trail just a short drive from the city.
Escaping the City: Virginia Wine Trails Near D.C.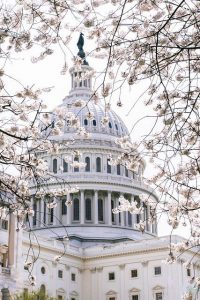 One of the best things about Virginia is its close proximity to the nation's capital city. If you're in Washington, D.C. and are looking for an escape from the hustle and bustle, there are several wine trails located within an hour of the city. Consider taking a short drive into Virginia for a breath a fresh air and a great bottle of wine on these wine trails. 
Artisanal Wineries of Rappahannock – This wine trail is a unique group of artisanal, family-operated wineries just an hour from D.C.

Loudoun's DC Wine Country – This wine trail is comprised of 40 boutique vineyards and wineries grouped into four smaller clusters. 
Relaxing in the Sand: Virginia's Beachy Wine Trail
If you're visiting Virginia's Chesapeake Bay and want to enjoy a glass of wine with your toes in the sand, we have the perfect wine trail for you: the Chesapeake Bay Wine Trail. Since the terroir of Virginia's eastern coast is quite different from the rest of the state, the vineyards and wineries on this trail offer varietals you may not find elsewhere.