---
Thistle

Gate Winery & Vineyard

SOLD!

A genuine gem of the Piedmont region, Thistle Gate Vineyard is a charming and highly-regarded, fully-operational vineyard conveniently located 25 minutes from Charlottesville. The stunning property is almost 43 acres, with 4.5 acres of established vines and additional acreage already cleared to expand the vineyard. The vineyard opened in 2007 within the Monticello AVA, one of the top 10 American AVAs and the winner of the 2020 Readers' Choice Award (USA Today). Thistle Gate is also a member of the Monticello Wine Trail, a group of 33 vineyards and wineries that is extremely popular among wine connoisseurs. Membership in this exclusive and well-respected wine trail means that Thistle Gate is easy for anyone to find, be it locals, wine tourists, or wedding parties looking for the perfect venue. Thistle Gate is no secret to the wine community: For seven of the past eight years (including 2020), Thistle Gate Vineyard has won the Rural Virginia Readers' Choice Best Winery Award, in addition to the many awards it has won for its complex and creative winemaking.

Thistle Gate's welcoming tasting room has plenty of seating in addition to an office, winery/storage spaces, and a kitchen. Outside the tasting room, visitors are graced with 360-degree views of the bucolic vineyard and meticulously landscaped exterior as well as almost half a mile of Hardware River frontage. The gazebo, patio, and covered front porch serve to enhance the vineyard's charm. Thistle Gate Vineyard's exquisite property and views make it the perfect venue for weddings or other private events in any season. Thistle Gate also boasts a guest house and a main residence with 4 bedrooms, 2.5+ baths, a luxurious master suite, and an eat-in kitchen, stunningly situated on a knoll overlooking the vines.
---

For More Information
Rick Walden
434-981-5923

Peter J. Hof
Cell: 434-825-1727
Email: peter@virginiaestates.com
---
Thistle

Gate Winery & Vineyard - $1,300,000
---
Properties similar to

Thistle

Gate Winery & Vineyard:
---
View Our Sales Brochure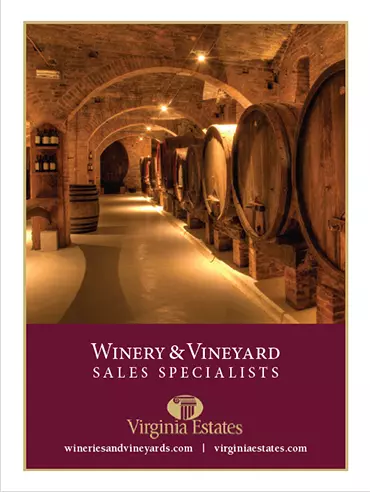 Listing Brought to you by:
Virginia Estates Inc, Afton, VA
---
ALL INFORMATION IS PROVIDED IN GOOD FAITH AND DEEMED RELIABLE, BUT NOT GUARANTEED. BUYERS ARE ADVISED TO EXERCISE THEIR OWN DUE DILIGENCE REGARDING THIS INFORMATION. VIRGINIALAND.COM, A DIVISION OF VIRGINIA ESTATES ASSUMES NO LEGAL RESPONSIBILITY FOR ACCURACY.