---
Winding

Road Cellars

Winding Road Cellars is a boutique winery tucked away on 15.9 acres in the breathtaking rolling hills of Markham, Virginia. Winding Road is proud to craft some of the highest quality wines in the state. 

This winery features space for wine production and barrel storage in addition to a tasting room and space that can be rented out for private events. The unique tasting room was built by Amish craftsmen who combined both new and reclaimed materials into a unique building. The sturdy construction not only looks beautiful, but smells of the freshly hewn pine used for the walls, floors, and ceilings. The space for wine production and barrel storage has more space than is currently in use, and could be used to increase the winery's annual production. The property also features a 3 bedroom residence separate from the tasting and events space.

Winding Road is the perfect place for visitors to enjoy serene, relaxing views of the nearby Blue Ridge Mountains to the east while sipping a glass of some of the best wine Virginia has to offer. The front porch of the tasting room features some of the property's best views, and the back deck offers plenty of seating to enjoy your bottle with views of the pond and vines. 
---

For More Information
Rick Walden
434-981-5923
---
Winding

Road Cellars - $990,000
---
Properties similar to

Winding

Road Cellars:
---
View Our Sales Brochure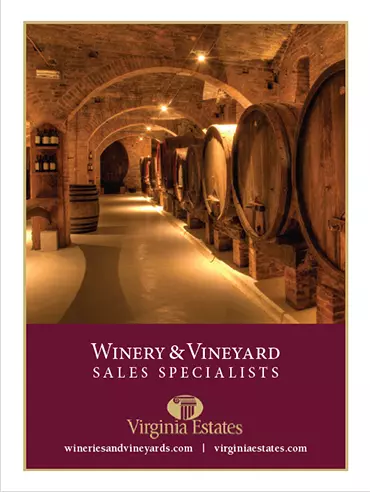 Listing Brought to you by:
Virginia Estates Inc, Afton, VA
---
ALL INFORMATION IS PROVIDED IN GOOD FAITH AND DEEMED RELIABLE, BUT NOT GUARANTEED. BUYERS ARE ADVISED TO EXERCISE THEIR OWN DUE DILIGENCE REGARDING THIS INFORMATION. VIRGINIALAND.COM, A DIVISION OF VIRGINIA ESTATES ASSUMES NO LEGAL RESPONSIBILITY FOR ACCURACY.