---
Autumn

Creek Vineyards

SOLD!

This offering is a wonderful chance to take over a fully-operational hospitality business in a stunning vineyard setting. Autumn Creek is the ideal combination of nature and elegance in the foothills of the majestic Blue Ridge Mountains. Located in Rockingham County, North Carolina, the area in the vineyard's immediate vicinity is known for small town charm, but less than an area away are some of the state's fastest-growing markets (including High Point, Winston-Salem, and Greensboro). This property boasts about 100 acres of scenic land, including two bubbling streams and three peaceful lakes. Autumn Creek is the perfect place to host a wedding or other outdoor event, with beautifully landscaped grounds and a large gazebo that looks out over the lakes. 

The Vineyard

About ten of the property's hundred acres are established vineyard. Autumn Creek's varietals include some of the area's most popular: Chambourcin, Viognier, Riesling, Pinot Gris, Merlot, and Cabernet Franc. In an average year, the vineyard produces between 15 and 20 tons of grapes, though the precise yield varies based on the annual weather. The current owners have supplemented the grapes grown on the property with grapes from other local growers to increase wine production capacity. 

The property includes a 4,000 square foot metal building that has been used to house equipment for the vineyard. This space is ideal for storing large equipment necessary for maintaining the vineyard such as mowers and tractors. The space also includes a laundry room and two bathrooms that can be accessed from outside the building for guests at outdoor events.

The Tasting Room

Autumn Creek's tasting room is an impressive log building that includes spacious porch, deck, and patio areas. All of the spaces are ideally situated to provide fantastic views of both the vineyards and one of the small lakes. The tasting room can be rented out for private events, as is a great space for wedding rehearsal dinners, micro-weddings, and other similar events. The space is also perfect for the winter, when cold weather encourages visitors to cozy up inside while enjoying the stone fireplace and live music. When it's hot, the tasting room's many outdoor spaces are full of visitors enjoying both the wine and the view.

The first floor of the tasting room includes approximately 2,000 square feet for the tasting room itself, restrooms, a room that can be rented for smaller private events, and an office for the vineyard manager. The basement is also approximately 2,000 square feet, with about half of that taken up by wine storage, and another half that can also be rented out for private dinners and other events. The lower level can be used to seat 40 to 50 guests or about 100 guests at standing events such as cocktail parties. This space opens onto a patio area overlooking a lake, so it can easily be used for indoor/outdoor events when the weather permits.

The Pavilion (Events Space)

Autumn Creek features a rustic yet elegant space known as The Pavilion that can be rented for private events. This special, 6,000 square foot space is the crowning jewel of the property with a striking appearance that nonetheless fits seamlessly with the rest of the vineyard. Once inside, visitors are greeted by hand-hewed timber posts, beams, and trusses, as well as an impressive stone fireplace that draws the eye. As three of the exterior walls incorporate huge windows and glass doors, visitors have fantastic views of the rolling hills, vines, and lake outside. Sliding glass doors open the space directly onto a spacious deck above the small lake.

The 5,000 square foot events space is perfect for accommodating tables and chairs for seated events such as a wedding reception or dinner party for up to 300 guests. There is also a warming kitchen in the space that can be used by caterers, restrooms, and a storage area that can store all of the tables and chairs when the space is not in use. 

The Log Cabins

Autumn Creek also boasts two well-maintained and well-situated log cabins within a short walk of the other spaces on the property including the tasting room and The Pavilion. These cabins can be rented for special occasions like honeymoons, romantic weekend getaways, bachelor parties, and anniversary celebrations. The cabins both feature a full kitchen stocked with appliances, a flat-screen television, and a gas fireplace. 

The smaller cabin known as the "Cabin in the Vines" is about 800 square feet and is perfect for two to four guests. It has a large, open-plan space with a cozy fireplace. This space opens to the dining room and kitchen, then connects to the private master bedroom and a luxurious ensuite bathroom. The master bedroom has direct access to a small deck that overlooks one of the smaller ponds. There is a second loft-style bedroom located above this area.

The larger cabin known as the "Cabernet Cabin" is about 1,350 square feet and can accommodate four guests (two couples). There are two master bedrooms that each have a full ensuite bathroom. Separating the two bedrooms is an open great room with a gas fireplace. The kitchen and bathrooms feature luxury amenities, with granite countertops and large, standing showers. This cabin also has a large porch with incredible views of the vines and a small lake.

Summary

Autumn Creek is the ideal property for a buyer looking to step into a functional, profitable vineyard and hospitality business. With unique and well-planned event and overnight rental spaces, this vineyard has fantastic potential for destination weddings and other private events. With productive vines, well-maintained structures, and a close proximity to North Carolina's expanding Piedmont Triad region, Autumn Creek is a tremendous and compelling business opportunity! 


For More Information Contact
Natt Hall
Cell: (877) 646-8800
Email: hello@virginiaestates.com
---
Autumn

Creek Vineyards - $2,295,000
---
Properties similar to

Autumn

Creek Vineyards:
---
View Our Sales Brochure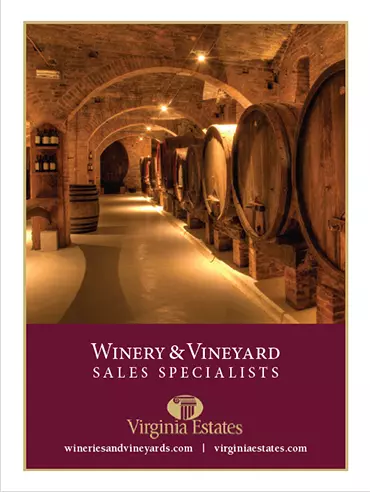 Listing Brought to you by:
Virginia Estates Inc, Afton, VA
---
ALL INFORMATION IS PROVIDED IN GOOD FAITH AND DEEMED RELIABLE, BUT NOT GUARANTEED. BUYERS ARE ADVISED TO EXERCISE THEIR OWN DUE DILIGENCE REGARDING THIS INFORMATION. VIRGINIALAND.COM, A DIVISION OF VIRGINIA ESTATES ASSUMES NO LEGAL RESPONSIBILITY FOR ACCURACY.