---
Well

Known Vineyard-Winery in Mid-Atlantic Region of Blue Ridge Mountains
A Profitable and Multi-faceted Agritourism & Hospitality Property and Business: Vineyard, Winery, Craft Brewery, B&B, & Special Events Venue
About The Property
Majestic views, country setting, ample acreage, & room for lodging expansion with construction already started on enclave of 18 cabins
Proximate to 5 Metropolitan Statistical Areas, and more than 1 million people
Many universities and colleges within the 5 relevant MSAs
Business, industrial, technical and medical centers also within the relevant MSAs
Hiking, biking, river rafting, tubing, fishing, horseback riding, and golf all nearby
Multiple hospitality related venue structures on the overall property
Large, well-sited vineyard with multiple blocks, and well-selected desirable varietals
High-range wine grape tonnage yields produced each season
Fully equipped winery with annual production capacity up to 6,000 cases
Multiple award-winning wines produced over many years, including in 2022
Well-established and growing Wine Club providing "built-in" quarterly sales
Interesting and unique craft beers, with seasonal specialties offered
Significant contribution to top line revenue from well-run B&B operations
Spacious owners' suite located in the large B&B structure
Very popular wedding event venue with food service capabilities for receptions
Ample dressing space in separate events building for bride, groom and attendants
Can easily accommodates corporate, educational, and various club type gatherings
Many unique and superior architectural elements and materials in all structures
All major vineyard, winery and outdoor maintenance equipment will convey
All major hospitality equipment will also convey (chairs, tables, catering equipment, brewing equipment, and other major furnishings in event venues & B&B)
This offering is truly a "hidden gem" when one considers the acreage, countryside location, magnificent views, and overall setting—and proximity to major metropolitan areas.
Those attractive elements combined with the multi-faceted and profitable hospitality and agritourism businesses—consisting of a mature vineyard, production winery, small brewery, B&B, and a special events venue—make for an appealing and rewarding place, where owners can both live and work—all while enjoying a combined "town, country, and vineyard" lifestyle. It's all here, and most of the heavy lifting has already been done—it just awaits your inspiration, energy, and commitment to keep it moving to ever higher levels of success!

**The image above is a generic photo used for discreet properties.
---
For More Information and/or a Showing Please Contact:
P. Tyler Williams, Agent & REALTOR
Cell: 703-850-4914
Email: ptylerwilliams@gmail.com
Licensed in the Commonwealth of Virginia
Vineyards-Wineries & Estates Specialist
---
Well

Known Vineyard-Winery in Mid-Atlantic Region of Blue Ridge Mountains - $6,500,000
---
Properties similar to

Well

Known Vineyard-Winery in Mid-Atlantic Region of Blue Ridge Mountains:
---
View Our Sales Brochure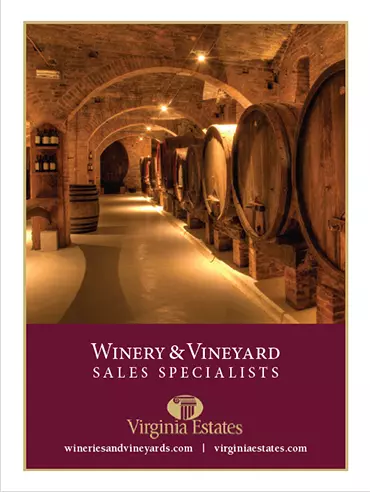 Listing Brought to you by:
Listing Courtesy of Virginia Estates Inc
---
ALL INFORMATION IS PROVIDED IN GOOD FAITH AND DEEMED RELIABLE, BUT NOT GUARANTEED. BUYERS ARE ADVISED TO EXERCISE THEIR OWN DUE DILIGENCE REGARDING THIS INFORMATION. VIRGINIALAND.COM, A DIVISION OF VIRGINIA ESTATES ASSUMES NO LEGAL RESPONSIBILITY FOR ACCURACY.